Football World Cup 1938 » Winner – Teams – Statistics – History
The Football World Cup in 1938 was the third time that the World Cup had been held. The host, France, was chosen by FIFA in Berlin on August, 13th 1936.
The event took 16 days in total, from the 4th-19th June. Italy won 4-2 against Hungary, allowing them to win back-to-back World Cup titles.
The final took place at the Stade Olympique de Colombes, situated in Paris. Vittorio Pozzo, regarded as one of the greatest football managers of all time, became the first coach to preside over two World Cup victories (the first time being the 1934 World Cup in Italy).
Participating Teams of the 1938 World Cup Finals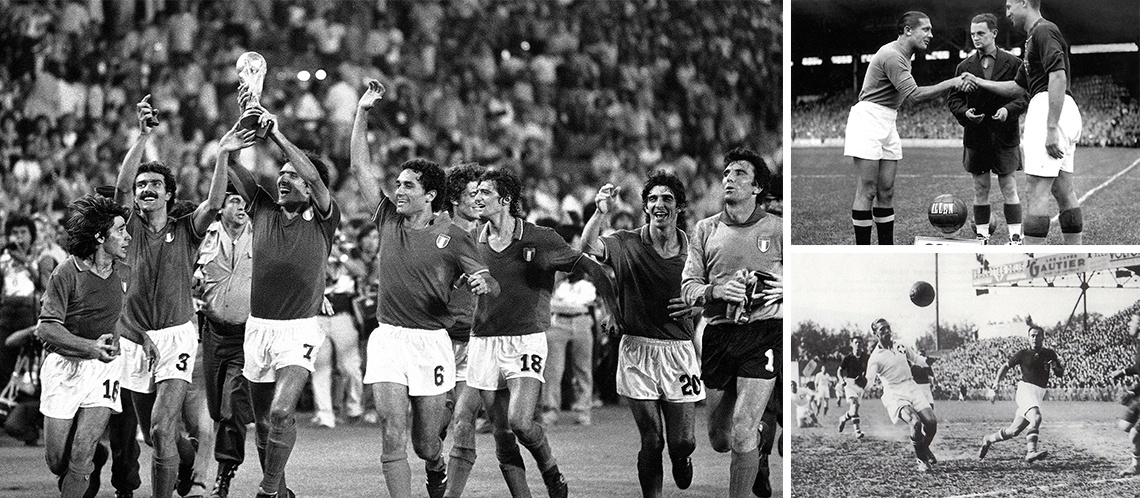 16 teams qualified for the tournaments: Norway played Italy and lost 2-1 after a 94′ goal by Piola. Belgium lost 3-1 to France after Nicolas' double-score for the French team. The Netherlands lost to Czechoslovakia 3-0 with all goals being scored in Extra Time. The Dutch East Indies were demolished by Hungary 6-0. Germany drew in their first match against Switzerland, 1-1, leading to a replay that they lost 4-2. Similarly, Cuba and Romania drew their first match 3-3, leading to a replay in which Cuba won 2-1.
Austria, the 16th team in the competition withdrew from the tournament following annexation by Germany in March, therefore allowing Sweden to advance to the next round.
Teams eliminated in the Quarter-Finals included: France, who lost 3-1 to Italy, with Piola, who became player of the tournament scoring two goals. Czechoslovakia bloodily drew with Brazil in the first match, after several brawls, but lost their next fixture 2-1 to a 62″ goal from Roberto. Switzerland lost 2-0 to Hungary in an impressive Hungarian performance and Cuba were demolished by Sweden 8-0, with hat-tricks from both Andersson and Wetterström.
The Semi-Finals included two dominating performances from Hungary and Italy. Hungary beat Sweden 5-1, despite Nyberg scoring in the first minute for Sweden. Italy beat Brazil 2-1 with a penalty from Meazza placing them in the lead and securing them a place in the Finals.
The battle for third place was won by Brazil, who beat Sweden 4-2. Here, Leonidas scored two goals giving him a cumulative seven throughout the tournament and placing him as the top goal scorer.
Switzerland
Germany
1-1
(AET)
Hungary
Dutch East Indies (-1945)
6-0
France
Belgium
3-1
Cuba
Romania
3-3
(AET)
Italy
Norway
2-1
(AET)
Brazil
Poland
6-5
(AET)
Czechoslovakia (-1992)
Netherlands
3-0
(AET)
Winner of the World Cup 1938
The favourites of this competition, Vittorio Pozzo's Italian team did not disappoint in the final match – they were the defending world champions and were on an 18 game winning streak. Despite this seeming invincibility of the Italians, the competition provided by Hungary was not to be understated. Hungary consistently outclassed their opponents throughout the whole tournament – opening up with a 6-0 win over the Dutch East Indies. Not only that, they had played an incredibly dominating game of football, 5-1, against a strong Swedish side (who had, in turn, scored 8 goals in a single match against Cuba).
Italy got off to an early lead after a sixth-minute goal from Colaussi – which was quickly equalised just two minutes later by Titkos. In ping-pong type fashion, Italy took back the lead with a 16th-minute goal from Piola. The victory was secured after Colaussi's second goal in the 35th-minute, making it 3-1. Hungary looked keen to come back with a 70th-minute goal by Sarosi, but Piola scored his second goal of the game and Italy's fourth, in the 82nd minute to triumph over Hungary.
Hungary
Italy
2-4
The Story of 1930 FIFA World Cup
The 1938 World Cup was embroiled in warfare and was actually the final World Cup before a hiatus, until 1950. This is because of increasing pressure from Nazi Germany leading to an outbreak of the Second World War.
The tournament, therefore, was a time for the qualifying countries to showcase their talent and unify around a love for the same game – temporarily suspending presuppositions of international dispute.
FIFA hosted this tournament in Europe to harmonise the competing nations, although this did lead to the abstention of South America's Argentina and Uruguay. Italy had become the team to beat following their first world cup victory and lengthy eighteen-match winning streak – they seemed unbeatable under Pozzo's masterful tactics.
If any team were to take down the Italians, it was going to be Brazil. They had a strong synergy, skilful attack and were performing consistently throughout the tournament. Brazil's strength was not without controversy, however. The first quarter-final match dubbed the "Battle of Bordeaux" between Brazil and Czechoslovakia was certainly 'eventful'. Hungarian referee Pal von Hertzka's laid-back refereeing style led to the succession of several fouls by both sides – and then an all-out brawl. Brazil racked up 2 red cards, (to Martim, the captain, and Procopio), whereas Czechoslovakia only got one(Riha in the 89th minute, after an incident with the aforementioned Brazilian captain). Brazil's successes were ended by Italy due to a damaging decision made by the Brazilian Manager Pimenta, to rest Leonidas. This led to a comfortable 2-1 win by Italy.
Italy had considerable internal pressures of their own to deal with, Mussolini, the fascist dictator at the time had sent a telegram with the words "Win or Die". Therefore, not only did this nation have an indestructible playing record to uphold, they also had to fight for their lives.
Certainly, this survival of the fittest mentality worked for Italy- dominating Hungary in all aspects of the game – a consistent offense coupled with a sturdy defence. Piola, the man of the tournament and Italy's top goal-scorer scored two goals, and so did Colaussi. Italy, therefore, had become back-to-back World Cup winners.