Football World Cup 2010 » Winner – Teams – Statistics – History
The 2010 Fifa World Cup saw South Africa welcome fans from across the globe to their 10 stadiums, 5 of which were purpose-built for the tournament. Over three million people attended the 64 matches, the third highest number in the history of the World Cup up until that point.
Over £2.4bn was spent holding Africa's first ever World Cup, which was a success despite fears from sceptics over their ability to host such a major event.
In the opening match, South Africa faced Mexico at Soccer City, Johannesburg—boasting a stadium capacity of 94,736 and providing an exquisite setting to kick off proceedings.
Participating Teams of the 2010 World Cup Finals
Below you will find how the participating teams got on at the 2010 World Cup Finals:
Netherlands – The Dutch finished as runners-up after winning their first 6 matches before being thwarted by Spain in the final after extra-time.
Germany – A young German side dismantled England and Argentina in the knockout stages but were narrowly defeated 0-1 by eventual winners Spain in the semi-finals.
Uruguay – Uruguay proved to be dark horses as talisman striker Luis Suarez led them to the last four, but were squeezed out 2-3 by the Netherlands.
Argentina – Diego Maradona's Argentina side enjoyed a bright start to the tournament, before suffering a shock 4-0 defeat in the last eight to a tireless German side.
Brazil – Brazil topped their group and won comfortably 3-0 against Chile in the Round of 16. They fell in the quarter-finals however to two second-half goals from Holland's Wesley Sneijder.
Ghana – With an agonizing penalty miss late in extra-time, Ghana were almost the first African team to reach the last four.
Paraguay – Paraguay displayed their best World Cup showing yet, reaching the quarter-finals and only conceding 2 goals.
Chile – The attacking philosophy of manager Marcelo Bielsa served the side well until falling 3-0 to Brazil in the second round.
England – After limping through the group stages with 2 draws and a win, England then suffered a 4-1 defeat to rivals Germany.
Japan – In their best showing at a World Cup abroad, Japan were knocked out in the Round of 16 following a tense penalty shoot-out versus Paraguay.
South Korea – Making it through the group stage for the first time on foreign soil, they then fell to a Luis Suarez brace.
Mexico – Advancing to their fifth World Cup second round in a row, Mexico were then beaten 3-1 by Argentina.
Portugal – Despite going unbeaten in their group, a single goal from Spain's David Villa in the Iberian derby was enough to send the Portuguese home.
Slovakia – Despite losing 2-1 to eventual runners-up Netherlands in the Round of 16, Slovakia managed a memorable 3-2 victory in the group stages against an under-performing Italy.
USA – USA topped Group C but lost to Ghana after extra-time in the next round.
Group A
South Africa
Mexico
Uruguay
France
Group B
Argentina
Nigeria
South Korea
Greece
Group C
England
United States
Algeria
Slovenia
Group D
Germany
Australia
Serbia
Ghana
Group E
Netherlands
Denmark
Japan
Cameroon
Group F
Italy
Paraguay
New Zealand
Slovakia
Group G
Brazil
North Korea
Côte d'Ivoire
Portugal
Group H
Spain
Switzerland
Honduras
Chile
The following teams did not make it past the group stages
Algeria, Australia, Cameroon, Denmark, France, Greece, Honduras, Italy, Ivory Coast, New Zealand, Nigeria, North Korea, Serbia, Slovenia, South Africa, Switzerland.
Winner of the World Cup 2010
The bookmakers' favourites from the beginning, Spain were looking likely to build on their Euro 2008 success to take two consecutive major tournaments. But doubts were raised following a shock 0-1 loss to Switzerland in their opening fixture, in a tournament where previous World Cup finalists Italy and France had also both failed to win their opening fixture.
Despite this, the Spaniards maintained calm and stormed to victories in every remaining fixture, taking an impressive 1-0 victory against the seemingly unstoppable Germany before bringing the Netherlands to the brink in the final, saved from penalties in extra-time by an Andres Iniesta goal which was enough to secure Spain's first ever World Cup trophy.
Netherlands
Spain
0-1
(AET)
The Story of 2010 FIFA World Cup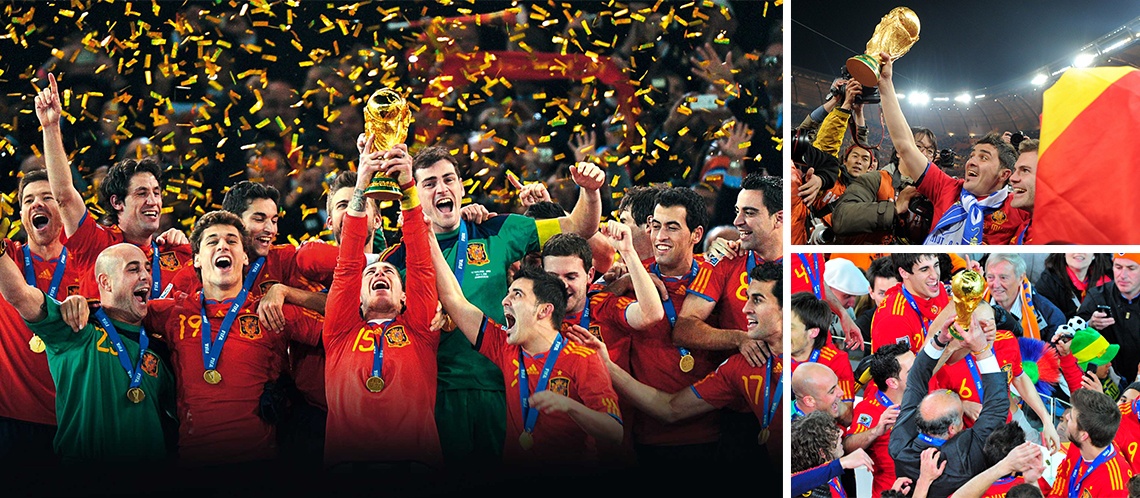 South Africa proved themselves to be passionate and enthusiastic hosts, embracing the opportunity to welcome football's most prestigious competition to the continent for the first time. An enthralling opener versus Mexico ended 1-1, but the home nation could celebrate a memorable 2-1 victory over France even if they didn't progress past the group stage.
Ghana represented Africa in the quarter-finals and were a last-minute penalty miss away from becoming the first ever African side to make it to the semi-finals, though they proved themselves as a force to be reckoned with.
The major shock of the tournament saw Italy and France finish bottom of their respective groups, the first time in World Cup history that both finalists of the previous World Cup failed to make it into the knockout stages. It was also a tournament to forget for Christiano Ronaldo and Lionel Messi, who saw their Portuguese and Argentinian sides struggle to convince, each falling to their first real challenge and crashing out in the first and second round respectively.
England crept through the group stage in second place, only managing draws in games against the United States and Algeria before narrowly beating Slovenia 0-1. Wayne Rooney had been billed as the player that could make a difference for the Three Lions in 2010, but little joy was found as Germany thrashed them 4-1 in the second round. This was not without controversy, however, as Frank Lampard looked to have leveled the game at 2-2 just before half-time with a superb lofted finish, only to be wrongly denied by the referee.
The golden generation of Spain glittered this World Cup with their footballing philosophy prevailing, even if the goals weren't always forthcoming. Xavi and Iniesta were integral to their success in midfield as David Villa provided goals at crucial points during the campaign. La Roja's patient build-up play and short passing game made for fine viewing, impressing particularly against a strong Germany in the semis, where Spain controlled large parts of the game as they took a 1-0 victory after Puyol thumped home a header from Xavi's corner.
The Netherlands bested Brazil and Uruguay to make it to the final versus Spain, but chose a pragmatic approach of preventing the Spaniards from playing their game and stifling proceedings rather than attempting to match them. Racking up 24 yellow cards over the course of the tournament, more than any other team with 9 of these coming in the final, it could not be said that Iniesta's extra-time winner was undeserved.