Football World Cup 1950 » Winner – Teams – Statistics – History
After the cancelled 1942 and 1946 tournaments, the World Cup was back, hosted by Brazil in 1950. In a year of firsts, the competition was not to be decided on a single final match, teams competed for the newly named Jules Rimet Cup and England made their World Cup debut.
Previous World Cups had been conducted as a straight round-robin tournament, direct to the final, but the organiser's investment in the event and stadia meant they required additional matches to be played to generate more money. For this reason, group stages were formed, so instead of just sixteen matches making up the tournament, there would be thirty with the added draw for teams travelling from Europe and Asia of being able to play a minimum of three matches each, making the journey worth their while.
Participating Teams of the 1950 World Cup Finals
After a raft of withdrawals due to political and football reasons and several bans in the wake of World War II, just thirteen teams made up the four groups to compete in the finals. Group One comprised of Brazil, Mexico, Yugoslavia and Switzerland and Group Two was made up of England, Spain, Chile and the United States. Group Three and Four were depleted with the late resignations from India and France, so Group Three comprised of Sweden, Italy and Paraguay, and Group Four of just Uruguay and Bolivia.
Group 1
Brazil
Mexico
Switzerland
Yugoslavia (-2003)
Group 2
England
Chile
Spain
United States
Group 3
Italy
Paraguay
Sweden
Group 4
Uruguay
Bolivia
Winner of the 1950 World Cup
Uruguay were the shock winners of the 1950 World Cup Final. With a short route into the newly formed second group stage, having just one other team in their initial group, they then won the second group stage in style to become outright victors.
Hosts Brazil were so confident of taking the trophy in the final match, needing just a point to take the title, that newspapers were already printed announcing their victory and a samba band stood on the sidelines ready for the celebrations. Considered one of the biggest shocks in World Cup history, tiny Uruguay edged up through their group and finally overcame the Brazilian giants on their home turf to clinch a 2-1 win after coming from 0-1 down.
The shock of their win left a mournful, sorrowful atmosphere in the Maracanã Stadium in Rio de Janeiro, and across the entire country, and resulted in many Brazilian supporters requiring treatment for shock.
Uruguay
Spain
2-2
Brazil
Sweden
7-1
Brazil
Spain
6-1
Uruguay
Sweden
3-2
Sweden
Spain
3-1
Uruguay
Brazil
2-1
The Story of 1950 FIFA World Cup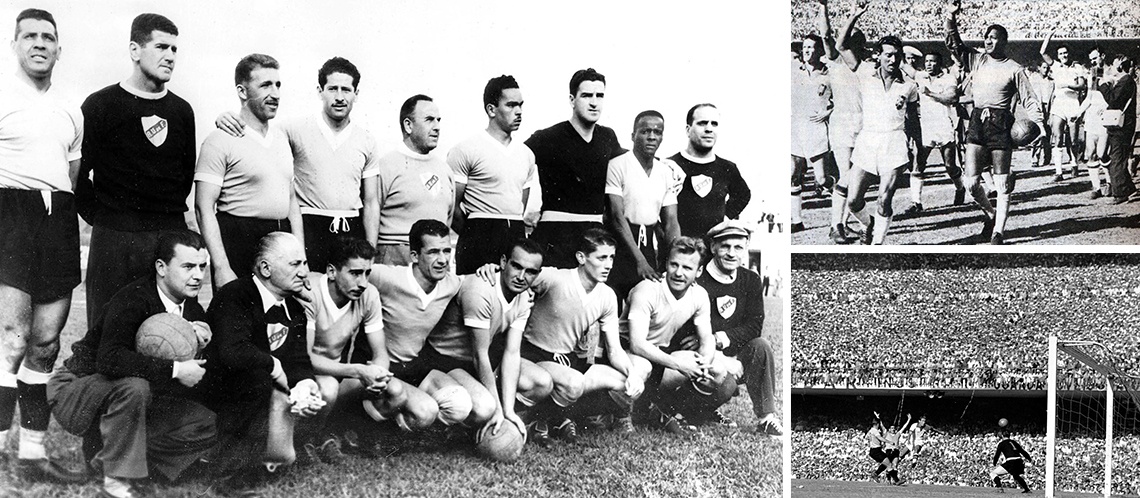 With just thirteen teams competing for the Jules Rimet trophy across four groups, with the top team from each group progressing to the newly formed second group stage, it was all to play for. Brazil stormed through Group One with two wins, eliminating unlucky Yugoslavia who also achieved two victories, and sending Switzerland and Mexico home; the latter had failed to accrue a single point.
Spain dominated Group Two taking maximum points, leaving no chance for the remaining three teams to progress. England, the United States and Chile each won a single game, but it were not close to matching Spain's impressive performance. Sweden progressed from Group Three, having beaten Italy and drawing against Paraguay. Uruguay topped their two team group, beating Bolivia by an impressive eight goals.
The final four teams played three games each to decide the overall winner. The first round saw Uruguay achieve a draw against Spain and Brazil thump Sweden 7-1. Four days later, Brazil continued their assault by beating Spain by five goals and Uruguay beat a resilient Sweden in a hard-fought battle, with the winning goal being scored just five minutes from full time.
The tournament rested on the match between Uruguay and Brazil on 16th June 1950, while Sweden and Spain played for pride. The Swedes took the spoils with a 3-1 win over the Spanish, along with third place. Brazil only needed to draw against the Uruguayans and went into the match with the belief that the tournament was already wrapped up. With 17 chances in the first half, Brazil finally capitalised on their dominance moments into the second half when Friaca converted a cross from Ademir.
Uruguay continued to fight and when Juan Schiaffino poked in a ball from Alcides Ghiggia twenty minutes after the opener, the stadium fell silent. The hosts and their legion of supporters would not settle for a draw, despite it being enough to win the tournament, and they pushed for a winner. Taking advantage of their attacking play, Ghiggia broke forward to score the winner on 79 minutes, breaking Brazilian hearts as he clinched the win, and the World Cup trophy.