Football World Cup 1954 » Winner – Teams – Statistics – History
The 1954 FIFA World Cup (WC) was the fourth edition of the global football competition. It was held in Switzerland, 24 years after the premier edition in Uruguay.
The tournament trophy went West Germany's way after the less-fancied side saw off the then - European football juggernaut, Hungary 3-2 in the final match. A total of 16 teams from four continents qualified for the 1954 football bonanza, two of them automatically as host nation (Switzerland) and as the then-reigning champions (Uruguay) respectively.
To this day, this is the WC journey that has recorded the highest number of average goals scored per game, at 5.38.
Participating Teams of the 1954 World Cup Finals
12 of these were European, with two coming from South America. The remaining two teams were from Asia and North America.
Europe
Hungary, Austria, Yugoslavia, England, Scotland, West Germany, France, Turkey, Belgium, Czechoslovakia, Italy and host nation Switzerland
South America
Asia
North America
At this tournament, group tables of four teams each were introduced, replacing the round-robin format that had previously been in use. To ensure balanced groups, the pre-tournament draw saw teams being seeded, with stronger nations like Uruguay, Brazil and Hungary falling in the first seeding pot. The two top teams in each group would then advance past the preliminaries to the knockout stages.
Brazil and Yugoslavia emerged from a tough group A to dump France and Mexico out of the tournament.
Group B saw the two teams that were to, later on, meet in the finals advance to the next round.
Other teams to secure progression to the knockouts from the remaining two groups included Uruguay, Austria, England, and Switzerland; at the expense of Czechoslovakia, Scotland, Italy and Belgium.
Group 1
Brazil
Yugoslavia (-2003)
France
Mexico
Group 2
Hungary
West Germany (-1989)
Turkey
South Korea
Group 3
Uruguay
Austria
Czechoslovakia (-1992)
Scotland
Group 4
England
Switzerland
Italy
Belgium
Group 1
Brazil
Mexico
5-0
Yugoslavia (-2003)
France
1-0
Brazil
Yugoslavia (-2003)
1-1
(AET)
France
Mexico
3-2
Group 2
West Germany (-1989)
Turkey
4-1
Hungary
South Korea
9-0
Hungary
West Germany (-1989)
8-3
Turkey
South Korea
7-0
Group 3
Uruguay
Czechoslovakia (-1992)
2-0
Austria
Scotland
1-0
Austria
Czechoslovakia (-1992)
5-0
Uruguay
Scotland
7-0
Group 4
England
Belgium
4-4
(AET)
Switzerland
Italy
2-1
England
Switzerland
2-0
Italy
Belgium
4-1
Winner of the World Cup 1954
West Germany earned the tournament bragging rights in a tightly contested match-up where they surprisingly beat Hungary by three goals to two. Pre-match predictions had Hungary as the overwhelming favorites. Boasting an unbeaten run stretching back four years, the Eastern European team seemed invincible at the time.
What's more, this was West Germany's inaugural tournament appearance and despite their reaching the finals not being a fluke, many had expected the in-form Hungarian side to hand them a thumping. Within the first ten minutes of the game, Hungary was already 2-0 up ahead through legendary players, Ferenc Puskas and Zoltan Czibor. However, the West Germans fought back through Max Morlock and Helmut Rahn, with the latter netting a double to secure the win.
Hungary
West Germany (-1989)
2-3
The Story of 1954 FIFA World Cup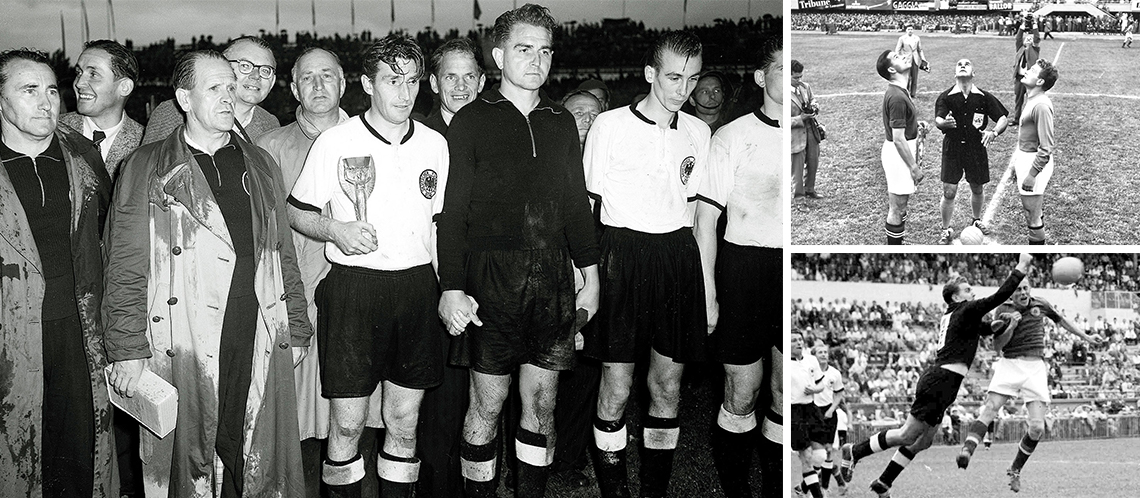 After tournament disruptions during the war years in the 1940s, the event's quad-annual format was now fully back in effect. At a FIFA event held in Luxembourg City in 1946, Brazil and Switzerland were named as hosts for the 1950 and 1954 editions respectively.
A number of unorthodox rules were also experimented by FIFA at this tourney, most notable being the introduction of extra time at the preliminary group stages.
This tournament registered a staggering amount of goals- 140 in total- spread out over 26 matches. Matches were held at six venues spread out throughout Switzerland's major cities, including Basel, Lausanne, Bern, Geneva, Zurich, and Lugano.
The Wankdorf Stadium in Bern hosted the final match, attracting a crowd of up to 60 000 people.
The matches leading up to the final were some of the most exciting in WC history. In one of the matches pitting Switzerland against Austria, the latter team dispatched the hosts in a 7-5 thriller, the World Cup's highest-scoring match to this day.
Fierce matchups saw Hungary survive past Brazil and Uruguay in the quarter-finals and semi-finals, thanks largely to the efforts of star forward Puskas and tournament top goal scorer, Sandor Kocsis.
West Germany, on the other hand, beat Yugoslavia and also Austria at the penultimate stage to book their finals ticket.
A total of 12 team records, which still stand to-date, were set at the 1954 WC. One of these is Hungary's record of highest average goals scored per game at a WC competition, which they set at 5.4.