Football World Cup 1998 » Winner – Teams – Statistics – History
The World Cup 1998 will always be remembered as one of the most action-packed World Cup tournaments. It may sound amazing now that France beat Brazil 3-0 in the final, but this really was a time when the French national team were at their absolute peak.
With 171 goals scored across the tournament and an average of 4.1 cautions a match, it really was one of the most dramatic World Cup tournaments this generation will remember.
Participating Teams of the 1998 World Cup Finals
Among the usual suspects in World Cup tournaments, there were also some teams who have not historically done well like Scotland. This was also one of the last times Yugoslavia played nationally as Yugoslavia. For tournaments after this political changes meant they played as FR of Yugoslavia and Serbia and Montenegro. The teams that participated in the FIFA World Cup 1998 are shown in their participating groups below:
Group A
Brazil
Norway
Morocco
Scotland
Group B
Italy
Chile
Austria
Cameroon
Group C
France
Denmark
South Africa
Saudi Arabia
Group D
Nigeria
Paraguay
Spain
Bulgaria
Group E
Netherlands
Mexico
Belgium
South Korea
Group F
Germany
Yugoslavia (-2003)
Iran
United States
Group G
Romania
England
Colombia
Tunisia
Group H
Argentina
Croatia
Jamaica
Japan
Winner of the World Cup 1998
When France won the World Cup final 3-0 in 1998, it was with a team whose magic have never been able to be quite recreated in subsequent World Cups. Naysayers often argue that Ronaldo and Rivaldo were severely off during the match, but for whatever reason, France still lifted the trophy.
It certainly helped that they had a dream team that year. Zinedine Zidane was at the top of his career and scored two goals in the final. One of the things that negatively affected Brazil's chances were the controversial decision to leave Ronaldo out of the starting line up. Although this was reversed, it still did not help the players psyche and he failed to produce any goals during the match.
Brazil
France
0-3
The Story of 1998 FIFA World Cup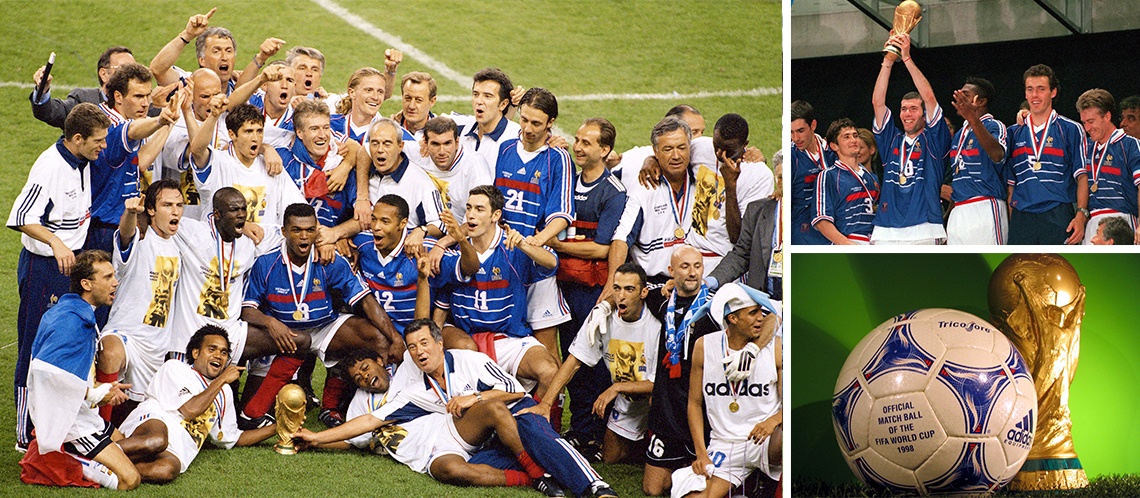 Remembered as the World Cup that the Brazilians lost for failing to show up at the final, 1998 was a year that actually gave us so much more. From the start, it was evident that the class of football being played was leagues above previous tournaments and arguably future ones as well.
One of the main controversies surrounding the England team during World Cup 1998 was Glenn Hoddle's decision to leave Paul Gascoigne out of the starting line up. He was a stellar player in the previous World Cup in Italy but his declining health and lack of attention to his form and fitness left him with no chance of being part of the squad. Many people voiced their anger about it, including the man himself, which people later commented was incredibly unprofessional.
Stories circulated in the press of Gazza smashing up Glenn Hoddle's office and being none to polite to the players that did make the squad, but the facts of what really happened will be buried in World Cup history.
The Netherlands were another team that really came to win. Dennis Bergkamp was enjoying his success as one of Arsenal's most popular players, and he certainly made use of his Premier League skills when it came to the World Cup tournament. Few will forget his last minute goal against Argentina that won the Dutch team a place in the semi-finals. The Netherlands went on to face defeat in the semi-final against Brazil, but although they lost the match they still proved a worthy opponent. Outplayed at times by The Netherlands, it was determination and luck that saw them through to the final against France.
Brazil made waves with the combination of Rivaldo and Ronaldo, who proved to be two of the deadliest players in football history when playing together. Surprisingly, Ronaldo was left out of the lineup for the final when the Brazilian manager submitted it 72 minutes before the game. An updated version submitted half an hour before saw him included. Speculations about what really went on have lasted for years with many citing health reasons and rumours that he was unfit to play but was reinstated following pressure from the team's sponsors.
Whatever the reason was for the confusion the result was Ronaldo having a terrible game. His lacklustre performance had an unfortunate knock-on effect on his teammates and the press had a field day ripping into the Brazilian team's performance after the game. This was perhaps a little bit on the rude side for France, as their victory was no doubt tainted by the fact everyone was commenting that their competitors were simply not up to scratch.
Luck alone isn't likely to enough to drive a team to win a World Cup final, so it was surely the talented mix of players that pushed them forward as the eventual winners. Not only was Zidane at optimum performance, but players like Emmanuel Petit, Patrick Vieira, Marcel Desailly and Didier Deschamps were all on top form fitness-wise and hungry for a win.