Football World Cup Russia 2018 Tickets
The FIFA World Cup 2018 is being held in Russia this year. Being the world's largest country with a population of over 140 million and a football fanatical country, it seems to be the best location for the World Cup to be held.
Getting tickets to the World Cup will be an adventure on its own. You can't buy tickets at this point of time. You can only "apply" for tickets as they will be allocated to you after 31 January 2018.
You can, however, buy tickets from other sources where tickets can be purchased immediately. Tickets on this site are also cheaper in comparison to the purchasing the tickets from the actual FIFA World Cup site.
How and Where to Buy FIFA World Cup 2018 Tournament Tickets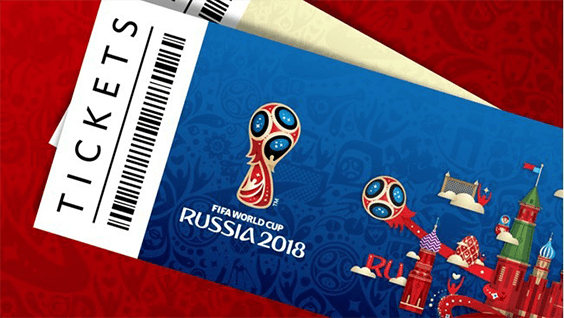 At the moment, Sales Phase 1 tickets have been released and allocated. Sales Phase 2 tickets are now being sold by application only. You would need to create your ticketing account and apply for tickets. Tickets are only being released after the 31st of January and will be allocated on a first-come-first-served basis through the applications received.
Tickets can alternatively be purchased from Live Football Tickets where you can purchase tickets online immediately and have them shipped by Fedex to any part of the world. You are guaranteed a seat if you did it this way. Live Football Tickets allows you to select the games you would like to watch, select the seat category visually and offers a 150% guarantee if you don't receive your tickets in time for the game. It also has last minute seats to accept last minute bookings.
Available Special Access Tickets – How Much and Where to Purchase
FIFA offers special tickets for people with disabilities or those who are less mobile including the obese. There are four categories in the Special Access Tickets:
Wheelchair User Tickets – self-explanatory; are for those on wheelchairs
Easy Access Standard tickets are for those with limited mobility – the disabled and fans with other medical conditions
Easy Access Amenity Tickets are for those who need extra leg room for guide dogs, for example the partially blind or those with limited mobility
Obese Persons Access have easy access with extra wide seats and are catered for those with a BMI over 35kg/m2
Apart from the Obese Person Access, all the other Special Access people receive a complimentary ticket for their companion to assist them to the match. All Special Access people need to prove eligibility when purchasing special needs tickets. Proof can be in the form of a medical certificate or a letter from the doctor.
Purchasing Special Access Tickets are no different from purchasing any other tickets. They cost the same as other tickets based on the category purchased. Tickets will need to be applied for and there are only limited seats for Special Access Tickets. It is also on a first-come-first-served basis.
Payment Methods for Purchasing Match Tickets
Sales Phase 1 has been released and most of the tickets have been allocated. As a rule of thumb, Russian Residents can pay for tickets by means of Visa, other payment cards and bank transfers. Non-Russian Residents will be able to pay for Phase 2 tickets via Visa, other bank cards and International Bank transfers via the official site. A form from the website needs to be downloaded if payment is to be made via International Bank Transfer.
Sales Phase 2 (which is the phase we are in now), ticket applications are being collected until January 31st for the Random Selection Draw. During the last-minute sales phase between 18 April until the end of the games, tickets will be available online for purchase which means that payment methods will be via credit/debit cards. Tickets will also be available over the counter which could be paid by cash besides card transactions.
Tickets purchased through Live Football Tickets must be paid for immediately by Visa Electron, VISA, Delta or Mastercard.
Return Ticket and Cancellation Policy
Tickets purchased cannot be exchanged or returned for any of the FIFA Confederation matches. Should you not be able to make it to a match, you can put your ticket up for sale using FIFA's official sales platform.
FIFA has, the right, however, to cancel your tickets if any of the purchase conditions were breached. In addition, FIFA will offer no refund if cancellation of tickets is less than 48 hours before the game date.
Cancellations will also take place if ticket owners misconduct themselves at the stadium or nearby areas.
However, should a game itself be cancelled, FIFA will refund the costs of the tickets but not any additional costs such as travel and hotel.