Football World Cup 2006 » Winner – Teams – Statistics – History
The 2006 FIFA World Cup held in Germany was the 18th edition of the quadrennial event. It took place from 9th June to 9th July. Germany won the rights to host the tournament in 2000, and thus gained automatic qualification.
31 other teams joined the host nations for the finals. This was the second time Germany was hosting the event, having previously hosted in 1974 then as West Germany. It was also the 10th time the event was being held in Europe.
Italy emerged winners by beating France, while Germany defeated Portugal to win third place.
Participating Teams of the 2006 World Cup Finals
31 teams out of 198 qualified for the finals in Germany. 13 teams were drawn from Europe (UEFA), 5 from Africa (CAF), 4 from South America (CONMEBOL), 4 from Asia (AFC) and 3 from North and Central America and Caribbean (CONCACAF). The remaining 2 places were awarded via playoffs between a team from Asia and CONCACAF and the other between a team from South America and Oceania.
There were 8 teams which made the finals for the first time in the history of the World Cup. They included Serbia and Montenegro, Ghana, Togo, Ivory Coast, Angola, Trinidad and Tobago, Ukraine and the Czech Republic. Ukraine and the Czech Republic, which were previously part of Czechoslovakia and the Soviet Union, were taking part as independent nations. Serbia and Montenegro had also previously competed as Yugoslavia in 1998. It was also the first time Australia was competing in the tournament since its last participation in the 1974 event. Some of the big names who did not take part in this edition were Turkey, which finished 3rd in the 2002 event, and Greece who were the winners of EURO 2004.
Belgium also failed to qualify for the first time since 1978. Cameroon also failed to qualify. Other teams which took part in the tournament include Iran, South Korea, Saudi Arabia, Japan, Costa Rica, Argentina, Mexico, USA, Croatia, France, Italy, Netherlands, Portugal, Poland, Brazil, Paraguay, Ecuador, Tunisia, Spain, England and Switzerland.
Group A
Germany
Ecuador
Poland
Costa Rica
Group B
England
Sweden
Paraguay
Trinidad and Tobago
Group C
Argentina
Netherlands
Serbia
Group D
Portugal
Mexico
Angola
Iran
Group E
Italy
Ghana
Czech Republic
United States
Group F
Brazil
Australia
Croatia
Japan
Group G
Switzerland
France
South Korea
Togo
Group H
Spain
Ukraine
Tunisia
Saudi Arabia
Winner of the World Cup 2006
The Italian National Team emerged as the winners and won their Fourth World Cup. Italy started off their campaign with a tricky game against a Ghana side that was making its first appearance in football's biggest bonanza. Pirlo and Vincenzo Iaquinta were on target as they won 2-0.
Their next match was against the United States. Cristian Zaccardo scored an own goal and the US could not capitalize on this misfortune. Alberto Gilardino pounced on a Pirlo free kick with a diving header to end the match in a 1-1 draw. The match would be remembered for that vicious elbow that Daniele De Rossi planted on Brian McBride which resulted in a bloody gash and a red card for De Rossi.
Their next match was against the Czech Republic and Italy thought they had suffered a setback when their versatile defender Alessandro Nesta was forced off early on due to injury. However, his replacement Marco Materazzi seemed more than capable of filling the void left by Nesta. He came on and scored as Italy thrashed the Czech Republic 2-0 to qualify for the last 16. Italy would thank the heavens for their luck when they met minnows Australia and Ukraine to reach the semi-finals. They beat Australia 1-0 and Ukraine 3-0 to book a semi-final spot against Germany whom they humiliated 2-0 on their home soil to set up an intense final with France.
This final would be remembered for Zidane's headbutt on Marco Materazzi which resulted in the Frenchman being sent off. Italy went on to win their 4th World Cup by beating France in a tense penalty shootout.
Italy
France
1-1
(AET)
5-3
(PK)
The Story of 2006 FIFA World Cup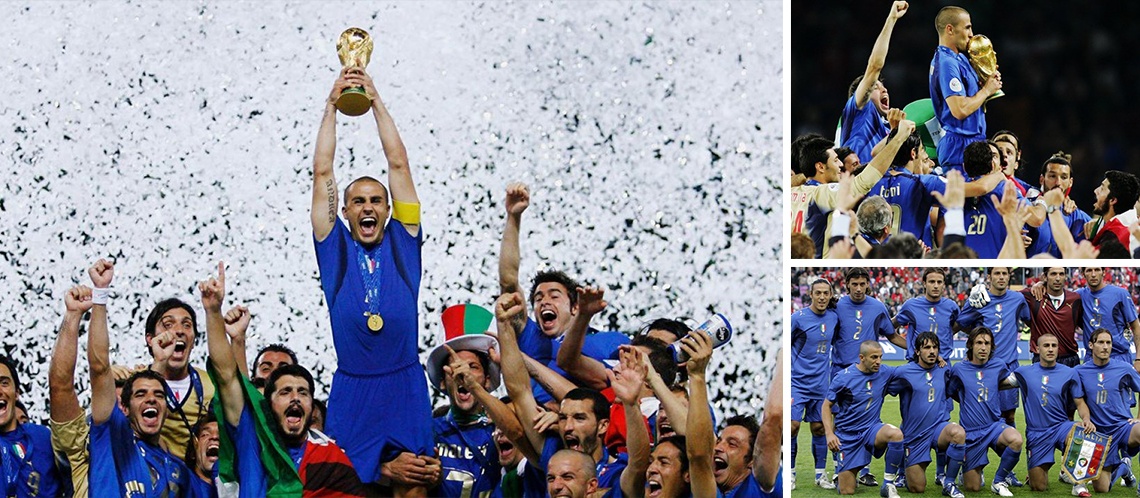 A major talking point of the 2006 FIFA World Cup in Germany was not Fabio Cannavaro lifting up the 4th World Cup trophy for Italy, but that last violent act of Zinedine Zidane in the final game with Italy.
After the match had long ended and the dust settled, Zidane would give his account on what transpired that lead him into such an act that would taint his glittering career in football. He said that Marco Materazzi had insulted a member of his family and that he acted out of anger. France went on to hold on for a chance to win the tournament only for David Trezeguet to make an awful miss, which proved to be the turning point for Italy to claim the trophy.
The group stages produced some entertaining matches, with only five out of 48 ending in a goalless draw. However, the knockout stages saw some teams employ more defensive tactics. There were also moments of controversy such as when referee Graham Paul showed 3 yellow cards to Josip Simunic of Croatia in their game against Australia.
The game between England and Portugal ended in controversy when Rooney was sent off for stamping on Ricardo Carvalho. Cristiano Ronaldo, who was at the time Rooney's team mate at Manchester United, seemed to encourage the referee to send Rooney off. England would further add to their misery when they lost on another penalty shootout at a major tournament. Brazil also felt they had underachieved in this tournament when they lost out to France, while Germany's win against Argentina who were the tournaments favourite, meant the final would be an all European affair.